Financial Modeling
Managing enterprise-wide risks requires analyzing present and historical data and modeling potential future outcomes. To address this challenge, Prescio developed a wide range of tools to model each financial risk which we combine into overall measures.
As each enterprise addresses specific situations, custom models are often developed on a case-by-case basis.
The employment of both off-the-shelf models and custom models requires independent model validation before their results are employed.
The Prescio team boasts over 20 years of combined experience in validating existing models and developing new models in various financial settings.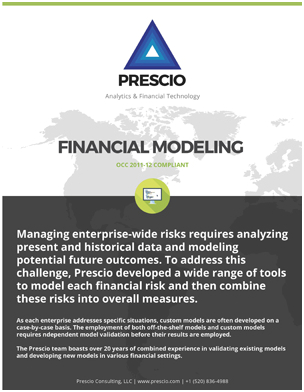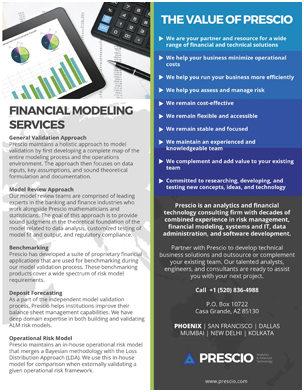 Financial Modeling Services
Independent Model Validation
Prescio offers an efficient and experienced approach to independent model validation. Our seasoned team of professional analysts have strong backgrounds in finance, quantitative analysis, statistical analysis, and IT. We have the competency and knowledge base to thoroughly analyze all financial model components including logic, input, output, and process to provide a model validation that is reliable and free from bias.
Financial Model Development
Successfully building a financial model can be a complex process. At Prescio our staff has experience developing models of risk on a portfolio level, on an account level and on an operational level. Prescio has also developed models of electricity usage and price. Models were developed on a case by case basis, and tailored to the specifics of each company.
Prescio SAS Services:
Prescio SAS Services
Data are not mere facts and figures but are the lifeblood of any business. Prescio can help you turn data into sound knowledge that will solve today's complex and challenging business problems and capitalize on future opportunities. Make faster, forward-looking decisions with SAS® software. As a SAS partner, Prescio Consulting is proud to help customers improve performance and deliver value by making better decisions faster. Prescio can help transform your data into insights that provide a fresh perspective on your business. You can identify risks and opportunities, and discover potential areas for improvement.